"Given the pace and scale of construction today with its adversarial, dominative relationship with nature, the integration of nature with the built environment is one of the greatest challenges of our time." – Stephen R. Kellert
This challenge that has been embraced by the International Living Future Institute's (ILFI) Stephen R. Kellert Biophilic Design Award entrants, particularly this year's two winning projects: The VanDusen Botanical Garden Visitor Centre, and the Dixon Water Foundation Betty and Clint Josey Pavilion. Now in its second year, the award program acknowledges Kellert's legacy as a pioneer in articulating and applying biophilic design principles to the built environment.
Each of this year's five projects showcased biophilic design principles detailed by Kellert most notably in his recent book Nature by Design. And the winners were deemed to best demonstrate Kellert's understanding that "in addition to amplifying the human/nature connection, for a building to be truly biophilic, it must also perform like nature."
Kellert Biophilic Design Award Winners – At a Glance
Both of these award-winning projects not only demonstrate Kellert's principle's of biophilic design, but also foster human connections and a sense of community. The facilities are designed to be gathering places that encourage education and a deeper understanding of our natural world.
Van Dusen Botanical Garden Visitors Centre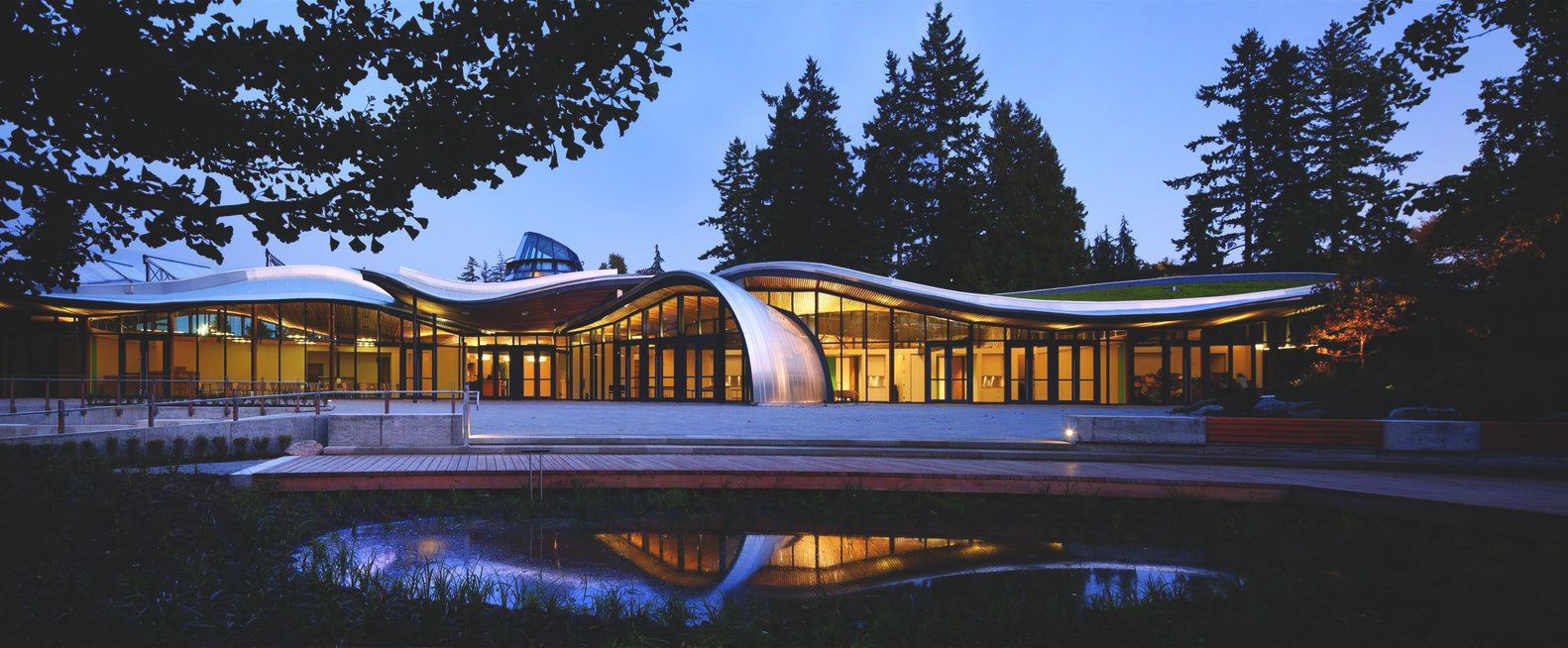 Location: Vancouver, BC, Canada
Architects: Perkins + Will
Completion: August 2011
Function: A community-oriented center for the Botanical Garden, with a cafe, library, volunteer facilities, garden shop, offices, and classroom space for meetings, workshops, lectures and private functions.
Design
According to ILFI, "The building is overwhelmingly multi-sensory, from the natural updraft in the central 'oculus' to the tactile qualities of the materials, the sparkle of sunshine and gentle diffusion of daylight, to soothing aromas and sounds of nature. The architecture embraces rainwater capture, stores passive solar energies for heating, and induces natural ventilation, just as nature would have done.
Delighting the senses with natural patterns and processes that are abundant through the architectural settings, the success of the Van Dusen Botanical Garden Visitor Centre is most evident in the Evolved Human Nature Relationships that have been created–the order and complexity, the spaces for prospect and refuge, and the tripling of new visitors to a Canadian national treasure with reverence and spirituality."
Striking a balance between the landscape and architecture, the building is composed of "undulating green roof 'petals' that float above rammed earth and concrete walls," inspired by a native orchid. The building's operable glazed oculus is particularly notable, washing the atrium space with a warm glow – and serving as a solar chimney, assisting with natural ventilation. Plus it features an aluminum heat sink that provides air movement by converting sunlight into convection energy.
Sustainability & Efficiency
Materials used for the building were selected based on their health, carbon footprint, ability to be recycled and their individual life cycles. To achieve net-zero energy annually, the Visitor Centre uses on-site, renewable sources, including geothermal boreholes, solar photovoltaics and hot water tubes. Rainwater is collected and reused, while grey water and blackwater are treated in an on-site facility.
Dixon Water Foundation Josey Pavilion
Location: Decatur, Texas, USA
Architects: Lake|Flato
Completion: Spring 2014
Function: The 5,000-square-foot pavilion is a site for meetings and educational events at the Dixon Water Foundation's Leo Unit in Cooke County. The mission of the Dixon Water Foundation is to promote healthy watersheds through sustainable land management
Design
According to ILFI, "The Josey Pavilion is indicative that biophilic design does not require curved forms, interior plants, or filigree to emulate nature. Like a walk on the prairie, the low slung building is connected to place and climate through its form, materiality, and response to environmental forces. The Pavilion's form is derived from a tree; sheltering against the hot sun, protecting against harsh winds, using the sun's warmth, and opening up to allow cooling breezes to flow through the space on warm days, connecting one's senses to the prairie. Like the prairie horizon on which it sits, its design hugs the earth, and its biophilic beauty lifts the soul."
Consisting of two barn-like wooden structures linked by a porch, the open-air pavilion is intended to foster human connection between land and water. Careful siting strategies employed biophilic design to allow for both daylight and natural ventilation and to provide a sheltered, enticing spot for visitors to survey the horizon. Low-slung, gabled roofs form a shady courtyard around a Heritage Live Oak and then are slightly pulled apart to allow for a large, shared gutter that collects rainwater. Rain chains also connect the water to a trough that provides habitat for birds and mammals while offering enjoyment and tranquility to visitors sitting along the porch.
Sustainability & Efficiency
The Josey Pavilion is a self-sufficient part of the tall-grass prairie around it. To help meet zero energy targets, the building generates its own solar energy. It also collects storm water and pumps no more groundwater than it returns to the aquifer underground. And all wastewater is treated in a constructed wetland. Providing indirect daylight, rooftop cupolas that run the length of the building allow hot air to escape. Plus, gapped wooden doors and pivoting glass doors allow cooling breezes to flow through. The pavilion was built with non-toxic and renewable or salvaged materials, which were sourced as locally as possible.
While the designs of the buildings are meant to become part of the natural setting, those who visit these facilities are also able to connect with the environment. Both the buildings and those who visit them embrace the beauty, power and sensory experience of their unique landscapes. They're proof that built structures can be sustainable, efficient, restorative and aesthetically stunning. A winning combination for our planet and the people who inhabit it.